Regular Outdoor Potty Breaks

12 Hours Continuous Cage-Free Daycare
Healthy Hound Playground is Maryland and Northern Virginia's Premier Dog Daycare, Boarding Kennel & Grooming Salon & Spa dedicated to providing your four-legged family member with an exceptional, safe, and fun home away from home with regular outdoor potty breaks.
As one of Washington DC's most trusted dog daycare, boarding, and grooming facilities, your dog will be sure to have plenty of space to run and play safely with constant supervision. Regular outdoor potty breaks help reinforce at-home habits and our spacious kennels afford evenings spent in total relaxation, while our overnight attendants give parents peace of mind.
Your pup can enjoy a spa day any day! At the end of a day of play, an overnight stay, or just because it's their favorite day of the week to get a haircut. Our experienced and tenured groomers will have your dog looking and feeling fresh and fabulous.
Healthy Hound Playground is proud to offer two locations. Our Sterling, VA facility serves the cities of Ashburn, Reston, and Herndon, and is a short trip down Rt. 28 from Chantilly and Centreville. Our Rockville, MD facility is central to Gaithersburg, Bethesda, Silver Spring, and Germantown. We look forward to meeting you and your pup!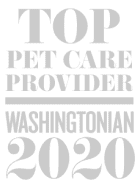 Top Pet Care Provider 2020 Washingtonian
Best of Nova Magazine 2020
Top Pet Care Provider 2019 Washingtonian
Best of Nova Magazine 2018
Best of Nova Magazine 2017
Best of Nova Magazine 2016
Daycare is a great way for your pup to learn positive socialization behavior, get much needed exercise, as well as have companionship and stimulation. With 12 hours of continuous cage-free daycare, your dog will never be crated unless you request lunch or a break. Regular outdoor walks will ensure Fido has ample opportunity to maintain potty training. All of our experienced attendants are personally trained by our on-staff animal behaviorist.
Your canine best friends are treated like family while they stay with us, whether they're visiting for Doggie Daycare or enjoying our Boarding services while you're away. Our facility features spacious canine cottages that allow pups from the same family to board together if desired, as well as provide ample room to place large beds, blankets, and toys to remind them of home. Onsite attendants are here 24/7 so that your dog will never be alone.
Our expert groomers will give your pup the pawfect haircut or doggy bath according to your specifications, and will work with you to ensure your satisfaction with your best friend's new look. Our staff is extremely experienced with breed specific styles and your dog will leave our salon looking ready to walk Westminster.
Learn more
45910 Transamerica Plaza, #109
Sterling, VA 20166
Phone: 703-464-0056
Fax: 703-880-7349
Email: sterling@houndplay.com
Daycare & Boarding Drop-off/Pick-up
Monday - Saturday: 7am-7pm
Sunday: 9am-7pm
Holiday Drop-off/Pick-up
Thanksgiving Day: 7am-10am & 5pm-7pm
Christmas Day: 7am-10am & 5pm-7pm
Daycare & Boarding Drop-off/Pick-up
Monday - Saturday: 7am-7pm
Sunday: 9am-5pm
Holiday Drop-off/Pick-up
Thursday, December 21: 7am-6pm
Thanksgiving Day:7am-10am & 5pm-7pm
Christmas Day: 7am-10am & 5pm-7pm
12605 Braddock Road 
Fairfax, VA 22030
In the words of our clients
Get inspired by these stories.

My dog and I both love Healthy Hound Playground! Everyone who works there is wonderful and clearly loves dogs! My dog is a rescue from a rural kill shelter who had not had a lot of contact with people or other dogs. Everyone there is so kind, and their facilities are well-maintained and perfect for my dog's socialization. Also, they walk your dog outside at regular intervals. I highly recommend Healthy Hound Playground.
Both me and my dog (Kacee) LOVE Healthy Hound Playground! I ask Kacee in the morning if she wants to go see her friends and she gets so excited! She is always happy to see the staff there and they are happy to see her too! She is even happier leaving then she is going in, and much more tried to boot! She has always been a little shy of meeting people on the street, but goes right up and loves the staff when she sees them. Healthy Hound Playground is not just a local business but a key part of my dogs happy life! Highly recommended!
Our dog LOVES LOVES Healthy Hound. She practically jumps through the door from the second we get there so she can start playing with all her friends. I really like that the dogs get walked every few hrs so they can go take care of business outside and the staff is great across the board. We will never take our girl anywhere else. 
*I'm thanking my lucky stars today and need to do a few shoutouts!
We almost lost (our dog) last night. Only a few hours after landing in New Orleans for a work trip, I received a call from where we daycare/board the dogs. The guy on the other line said he thought Odin had bloat and he thinks he needs to rush him to our vet, Blue Ridge Veterinary Associates
(about an hour away). I told him to GO immediately and I called the vet where they would be ready and waiting. Shane was 2 hours from  the vet as he was traveling home from Michigan. Once he got there it was confirmed Odin had gone into bloat and his stomach had twisted and he was back for emergency life-saving surgery. Alex from Healthy Hound Playground and Grooming Salon & Spa was still in the waiting room when Shane got there (hours later). If Alex hadn't been paying attention to Odin's symptoms and signs of distress, he wouldn't have made it another few hours... bloat is no joke and timing is not on your side. I always hate when we have to leave the boys, but Odin was exactly where he needed to be and I can't thank Alex at Healthy Hound and the amazing Blue Ridge staff enough!! I highly recommend Healthy Hound and Blue Ridge more than ever!!! They all helped to save the big man's life and I'll forever be thankful. 
*My rescue pup practically knocks down the front door at HHP trying to get in, and when I pick her up, she is happy to see me but immediately turns around and tries to go back into the enormous play area to continuing having fun. I love that the folks I speak with at HHP know, love and enjoy my dog, AND can give me information on how well she behaved while she was there. The "Party Inside, Potty Outside" philosophy at HHP is hugely beneficial for dogs like ours who lived for a long time in a shelter situation and were not properly potty trained. Our dog was still not housebroken at 7 months old when we adopted her and training her to potty outside was a very challenging process. Based on my experiences with my other dogs at different facilities, I am certain that a week long stay somewhere without the same commitment to taking the dogs outside would have caused her to backslide. (Not a fun way to "celebrate" coming home after vacation!) The diligence of the HHP staff in taking the dogs outside ensured Lark kept her hard-earned "house manners". 
*After 14yrs with another kennel we tried HHP. I was a little nervous but as soon as we walked in I knew my pups were in good hands! It is a very friendly clean environment and the staff were very understanding and gave me a personal full report when we picked them up. I really appreciated the fact that they took beds, toys, and leashes. At pick up they returned everything just as it was. It is the first time we have picked up our dogs and they weren't over excited to leave! I'm considering doing doggy day camp now!  
My mini-goldendoodle Teddy has been going to Healthy Hound anywhere from 1-3 times per week since he was 6 months old. As soon as we turn down the street he starts barking and howling. Teddy is now 19 months old and loves his doggy daycare. He is excited when he walks in and he is exhausted when he leaves. We have used the playground for boarding as well and it has been a great experience. The staff and owners are friendly and always greet Teddy and I as we come in. As a first time dog owner I never imagined sending a dog to daycare, now I can't imagine not doing that. It has become the highlight of his week. As soon as I tell him he is going to the playground he will follow me around the house, wagging his tail, until it is time to leave. Many times he will just sit in the car waiting for me!!! 
I discovered Healthy Hound last spring. I was in desperate need for a daycare that would welcome my nervous basenji. They welcomed gizmo with open arms and made sure him and all the other dogs got along. I wouldn't trust my dogs with any other daycare in the Nova area. They are reasonably priced and I love that someone is there 24-7.
This is such a wonderful facility!! My Cinnamon absolutely LOVES coming here to spend the day playing with her canine friends!! (She loves the human ones, there, too!) She's now a regular bi-weekly visitor, and is even starting to understand when I tell her "we're going to Healthy Hound today" and starts wagging her tail!!

Brandon and his team are just terrific, and I know Cinnamon is in very good hands. After a day of playing, she comes home exhausted, healthy and happy -- JUST the way I want her to be!!! I absolutely would highly recommend Healthy Hound Playground to other canine parents!!